Breaking News : Saina wins Hong Kong Open Super Series and becomes World No. 1
Saina wins Hong Kong Open Super Series and becomes World No. 1
Lets all congratulate her :up::jump:
Ace Indian shuttler Saina Nehwal on Sunday became world number one player after defeating China's Wang Shixian and became the first Indian to win the women's singles title at the Hong Kong.
Nehwal won the Hong Kong Open Super Series badminton tournament beating China's Shixian Wang 2-1 in the women's singles final here Sunday.
Second seeded Saina won 15-21 21-16 21-17 against third seeded Wang, an Asian Games gold medallist, in a match that lasted one hour and 11 minutes at the Queen Elizabeth Stadium.
For Saina the win was her fifth title of the year, which includes three Super Series and Commonwealth Games gold.
The Hong Kong Open was the fourth Super Series title for Saina, who won her first Super Series at the Indonesian Open last year and retained it this year.
Source

Congratulations to Saina....!!!!

___________________________________________
Airtel Digital HD Recorder / Kerala Vision Digital TV
Mods / Admn
If some one can move this thread from tennis to other sports please, by mistake I posted it here

Done Samanth :up:
Congrats to Saina :up:

Lok Sabha felicitates badminton star Saina Nehwal
New Delhi, Dec 13 (PTI) Lok Sabha today felicitated ace Badminton player Saina Nehwal for winning the Hong Kong Super Series tournament, a move that was facilitated after Opposition members gave a brief break to their agitation for JPC probe into 2G spectrum allocation.

Speaking on behalf of members, Speaker Meira Kumar said Saina had emphatically established herself as one of the best players through her "stupendous performance".

Saina defeated Asian Games winner Shixian Wang of China to win the tournament.

Noting that Saina had won the fourth major international title during this year, Kumar said, "honourable members, I am sure all of you will join me in conveying our heartiest congratulations" to her for the victory yesterday.

"Her achievements are a matter of national pride and source of inspiration for many a budding sportspersons of our country," the Speaker said amid thumping of desks by the members.
ptinews
___________________________________________
Airtel Digital HD Recorder / Kerala Vision Digital TV
Lot of confusion in rankings. Its confirmed now that Saina can't be No: 1 :oooh no:

'Hong Kong title will make up for Asiad disappointment'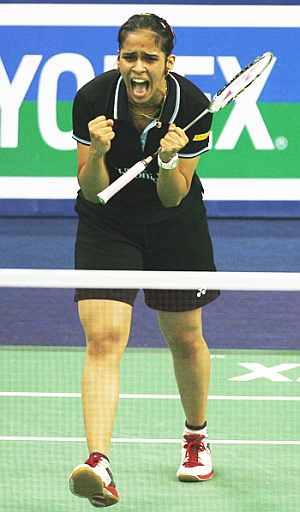 After clinching her career's fourth Super Series title with a thumping victory in the Hong Kong Open, ace Indian shuttler Saina Nehwal [ Images ] said the triumph has made up for the disappointment of last month's Asian Games debacle.
"It was fantastic especially since I didn't do well in the Asian Games. I didn't train much before this tournament and didn't expect to win. May be because I practiced a lot before the Asian Games so I decided to relax but I am very happy to win it here," said Saina, who had lost in the quarter-finals of the Asian Games in China last month.
Saina beat China's Shixian Wang 15-21, 21-16, 21-17 to lift her third Super Series title of the year and said she was confident of pulling off a win even though she lost the first game.
"I was nervous in the first game but I was confident at the same time. After I won the second game I gained more confidence. I was on the slower side and I expected her to hit negative shots and she did.
"In the third game the strategy was to have a lead before I moved to the slower side and I was leading 11-9. I was moving well today and was confident of pulling off the match," she said.
Saina NehwalSaina is the only Indian female shuttler to break the Chinese stranglehold in badminton and the Hyderabadi said she went into the match with a never-say-die attitude.
"It is always difficult to beat Chinese players because they are physically strong and have good strokes but it is not impossible. I went with this attitude," she said.
Saina had earlier won back-to-back titles – Indian Open Grand Prix [ Images ], Singapore Open Super Series and defended the Indonesian Super Series -- before clinching the gold medal in the Commonwealth Games [ Images ] in October.
Saina, who dropped to fourth in the world rankings, is likely to inch closer to the number one spot with this resounding victory.
"I always wanted to win more tournaments and also become the number one but I didn't expect to be number one by this year one and it would be another big dream come true. It will give me a lot of confidence," she said.
The world number four Indian said she would take a break and would be back to training for next season which would be a year of 2012 London [ Images ] Olympic [ Images ] qualification.
"Just want to relax a bit and then it would be back to training and gear up for the Olympic qualification year next season," she said.
:happy:

IF YOU LIKE THEN DON'T FORGET TO CLICK THANKS
Possibly Related Threads…
Thread
Author
Replies
Views
Last Post
Update: ICC Cricket World Cup 2019 - News/match updates/Results
nairrk
92
3,926
07-15-2019, 07:13 AM
Last Post: nairrk
General News: Indian Team for World Cup 2019 announced
nairrk
0
716
04-15-2019, 06:41 PM
Last Post: nairrk
General News: Hockey World Cup 2018 - Full Fixture List/Results/Points Table
nairrk
17
1,741
12-17-2018, 07:01 AM
Last Post: nairrk
General News: ICC Womens World T20 2018 - News & Match updates
nairrk
11
1,558
11-25-2018, 08:32 AM
Last Post: nairrk
General News: Indian Team for Australian Test series announced
nairrk
1
793
10-27-2018, 07:29 AM
Last Post: nairrk
Update: FIFA World Cup 2018 - Match updates/Points Table
nairrk
39
3,022
07-16-2018, 08:44 AM
Last Post: nairrk
General News: India/Ireland 2 T20I Series - Schedule /Score updates
nairrk
5
1,195
06-30-2018, 07:01 AM
Last Post: nairrk
General News: Canada, Mexico and USA selected as hosts of the 2026 FIFA World Cup
nairrk
0
648
06-16-2018, 07:06 AM
Last Post: nairrk
Update: FIFA World Cup 2018 - Schedule/ News updates
nairrk
5
1,174
06-15-2018, 09:04 AM
Last Post: nairrk
Update: Only T20I: Windies vs World XI, at Lord's, London
nairrk
2
694
06-01-2018, 07:30 AM
Last Post: nairrk
Users browsing this thread: 1 Guest(s)