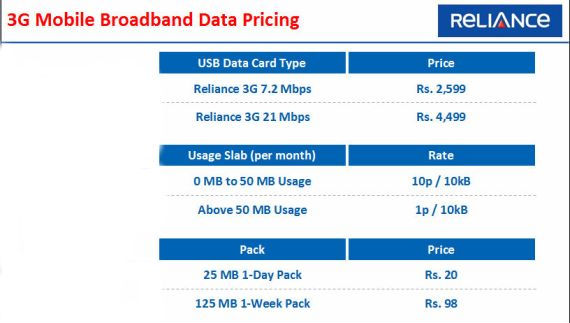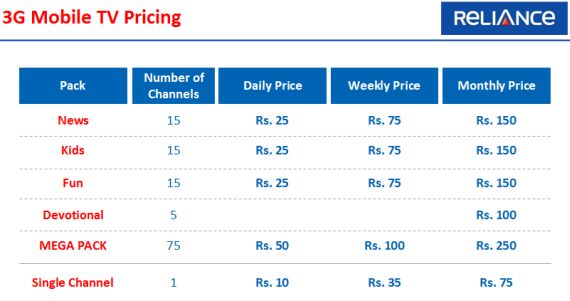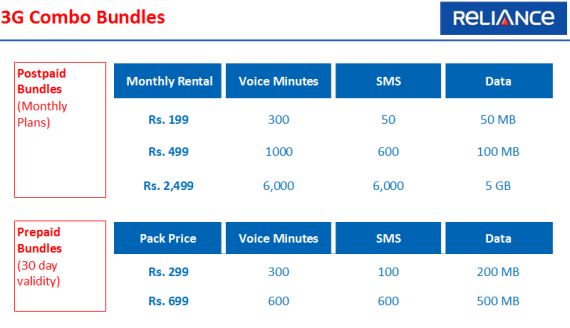 latest 3G plans and pricing from Reliance.

Reliance offers PAYG aka Pay As You Go plans which offers 3G on the go for the price of 10p/10kB upto 50MB and above 50MB you will be charged at 1p/10kB.

Reliance also offers data cards which have two variants 7.2Mbps data card costs Rs.7299 whereas the 21Mbps card costs Rs.4499.

Reliance Mobile Broadband Charges:

Tariff Data Offered

Rs. 100 100 MB
Rs. 399 500 MB
Rs. 649 1 GB
Rs. 899 3 GB
Rs. 1,499 10 GB
Rs. 2,100 21 GB

Reliance Mobile TV:

Reliance also offers Mobile TV as a part of its 3G services.

Reliance also introduced combo pack which comes bundled with Free Mins, SMS and Data usage.

Sadly there are no unlimited data usage plans.