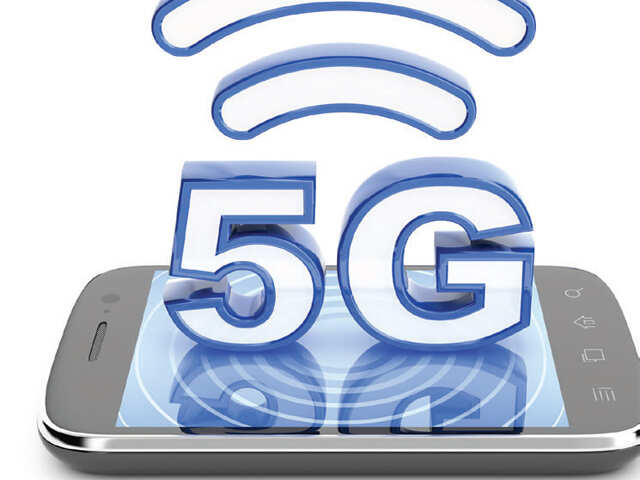 At a time when 4G networks are on an expansion mode, telecom operators globally are preparing the road to 5G — the next generation mobile technology that promises blistering download speeds on smartphones. Having lagged on both 3G and 4G fronts, the Indian government wants to draw level with the rest of the world on 5G, and has set in motion plans to auction 5G spectrum by asking the telecom regulator to suggest a starting price for such airwaves in the 3400 MHz to 3600 MHz bands. ET In the Classroom plumbs the depths of the 5G realm and tries to demystify its nuts and bolts.
WHAT IS 5G
?
5G, or 'fifth generation', is a technology that will run the next wave of fast mobile broadband networks in possibly two years from now. A 5G network will offer incredible download speeds of 20 GBs/second against 1 GB/second on a 4G network on your smartphone. It's like having a fibre optic connection in your pocket anywhere you go.
WHAT WOULD A TYPICAL 5G EXPERIENCE BE LIKE?
A 5G user will be able to download a 3-hour HD movie in under a second on his smartphone compared to at least 10 minutes for a 4G user. Video buffering during a streaming session should virtually disappear as data transmission would happen at lightning speeds on a 5G network.
This is since a 5G network will deliver data with less than a millisecond (ms) of delay compared to about 70 ms on a 4G network.
WHAT ARE SOME OF THE EMERGING SERVICES THAT WILL RIDE ON 5G TECHNOLOGY?
Experts believe 5G technology will be a gateway of sorts for a truly connected society. It is slated to power a host of new-age services such as machine-tomachine (M2M) communications, Internet of Things (IoT), connected smart cities, self-driving cars, remote control surgery to virtual reality. For instance, M2M technologies would allow wired and wireless devices to talk to one another using sensors, and such applications can be deployed in next-gen infrastructure projects such as smart cities, smart grids, smart health and smart transportation. Likewise, a 5G-powered IoT environment could enable someone to connect his home to a wireless network by embedding them with electronics, software or sensor technology. A typical example could be a remote operation of a house's security system.
5G NETWORKS WILL RUN ON WHICH SPECTRUM BANDS?
5G networks could run on the 3400 MHz, 3500 MHz and 3600 MHz spectrum bands. Airwaves in the 3500 MHz band are considered ideal for the first wave of 5G. Going forward, millimetre wave spectrum may play a significant role in 5G networks. They are called millimetre waves as they vary in length from 1 to 10 mm unlike radio waves (measuring tens of centimetres in length) that serve present smartphones. Millimetre waves are broadcast on frequencies between 30 and 300 GHz. Till date, they have been largely used by those running satellite networks and radar systems.
WHAT'S THE CURRENT STATUS OF 5G DEPLOYMENTS WORLDWIDE
?
The global telecom industry expects large scale 5G trials and deployments to start by 2019, a year earlier than the previous target. But South Korean carrier KT Corp could reportedly launch 5G services as early as the upcoming Winter Olympics in 2018. In the US, AT&T and Verizon have been conducting 5G trials. Verizon is reportedly testing a 5G fixed wireless service with Sweden's Ericsson in 11 US markets and weighing a commercial launch next year. US telecom regulator, Federal Communications Commission (FCC), has laid the groundwork for launching 5G in the US by 2020. In Japan, Ericsson has reportedly teamed up with NTT DoCoMo and Intel to build a 5G trial environment in central Tokyo, starting next year.
ARE THERE ANY INHERENT WEAKNESSES IN 5G?
Researchers say a key challenge is the possibility of 5G frequencies being blocked by buildings and losing their intensity over longer distances, which could undermine wider coverage. For instance, if millimetre waves are used for 5G in future, there could be possible coverage issues since such waves cannot easily travel through buildings and can also be absorbed by foliage and rain.
WHAT'S THE 5G PICTURE IN INDIA?
The government has set in motion plans to auction 5G spectrum. It has asked the telecom regulator to suggest a starting price for 5G airwaves in the 3400 MHz to 3600 MHz bands that may debut in the next auction. The Trai (Telecom Regulatory Authority of India) is slated to start consultations soon towards determining the base price of 5G airwaves proposed to be auctioned. The DoT (Department of Telecom) is also expected to soon unveil a policy on use of higher band spectrum, including 5G airwaves. Experts believe that regulatory conditions around data hosting and cloud services will have to be realigned before introducing a data-heavy wireless technology such as 5G in India.
Source:
___________________________________________
Airtel Digital HD Recorder / Kerala Vision Digital TV