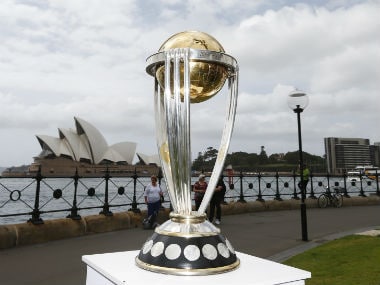 The International Cricket Council (ICC) on Thursday confirmed the schedule of the 2019 World Cup , which will be staged in England and Wales from 30 May to 14 July.
England will play South Africa in the tournament-opener at The Oval on 30 May, while Australia will launch their title defence on 1 June against Afghanistan in a day-night match in Bristol.
Representative photo. ReutersRepresentative photo. Reuters
Reigning ICC Champions Trophy winners and former champions Pakistan will start their campaign against the World Twenty20 winners and two-time former champions West Indies at Trent Bridge in Nottingham on 31 May.
Two-time champions India, who also won the Champions Trophy in 2013 in England and Wales, will play their first match on 5 June against South Africa at the Hampshire Bowl in Southampton. The marquee India-Pakistan clash will be played at Old Trafford in Manchester on 16 June.
Old Trafford in Manchester and Edgbaston in Birmingham will stage the two semi-finals on 9 and 11 July, while Lord's will play host to a World Cup final for the fifth time, on 14 July. All these three matches will have reserve days.
Eleven venues will be used in the 46-day tournament in which each side will play the other once in a single-league format with the top four sides after 45 matches progressing to the semi-finals.
ICC Chief Executive David Richardson said, "It's always an exciting moment ahead of any major event to announce the schedule and for the ICC Cricket World Cup. Next summer fans around the world will be treated to compelling and competitive cricket as the best teams in the world go head to head in this round-robin format for the right to be crowned World Champions.
"This schedule also gives fans across England and Wales the opportunity to watch world-class cricket on their doorstep with all teams moving around the country. We know from previous ICC events that every country will be proudly supported at each of the venues creating an exceptional atmosphere and a real celebration of the game."
Source:
___________________________________________
Airtel Digital HD Recorder / Kerala Vision Digital TV