Network congestion slowing down Reliance Jio 4G speed, Airtel average peak speed fastest: OpenSignal
NEW DELHI: Reliance Jio's average peak speed of 50 Mbps is 13 times faster than its average download speed of 3.9 Mbps, which means that the Mukesh Ambani-led telecom operator's network is technically capable of delivering far faster speeds than its customers actually receive, according to peak speed analysis of India by OpenSignal.
"That tells us that Jio's network is overloaded. Network congestion creates a bottleneck that slows down Jio connections much more than the connections of other operators," OpenSignal's Kevin Fitchard said in a blog post.
"Jio has experienced phenomenal growth since launching its all-4G service last autumn, signing up more than 100 million subscribers in the space of few months, and for much of that period Jio has been offering those customers nearly unlimited access to mobile data. That kind of heavy usage is bound to tax any network, forcing users to vie against one another for bandwidth," Fitchard said.
OpenSignal's data shows that Jio's slow average 4G speeds aren't a technical limitation, but rather a capacity bottleneck. As Jio adds more capacity — either through new spectrum or building more cell sites — or as Jio's mobile data consumption levels drop, then its typical download speeds should increase.
"Of course, this is almost certainly a temporary condition. Jio has reined in the ultra-cheap unlimited 4G plans it first launched with. As Jio's extraordinary data usage returns to more manageable levels, the big gap between its peak and average speeds should close. That means typical everyday connection speeds for Jio customers will increase as they'll be able to access more often the full technical capabilities of Jio's LTE network. We're already seeing some evidence of this in our most recent data," he said.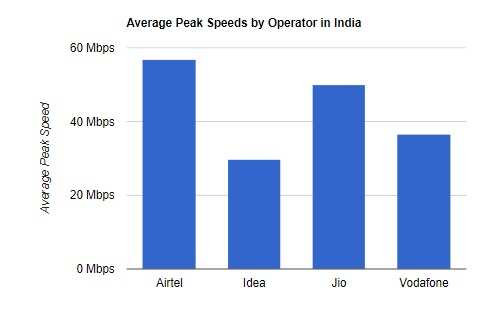 The analysis revealed that Bharti Airtel, Idea and Vodafone are four to five times faster than their everyday speeds. Airtel's average peak speed test was 56.6 Mbps, which was 5 times faster than its average 4G download test of 11.5 Mbps.
In order to calculate the metric, OpenSignal only look at the fastest of its speed tests. "Specifically, we only examine data from devices that have conducted multiple automated speed tests in a three-month period. We extract the fastest speed test from those devices and then toss out the bottom 95% of the results, leaving us with only the top 5% of the fastest speeds we've collected from our crowdsourced community. The average of that top 5% is our average peak speed metric," Fitchard said.
"We're not claiming this measurement is the topmost speed a device would ever experience on a particular operator's network — operators could produce faster speed in the laboratory conditions or, in rarer cases, in the field," Fitchard said, adding that average peak speed is an accurate measure of a 4G connection under the most optimized conditions, and it gives an indication of what consumers might really experience when unfettered by congestion or technical limitations.
For the India LTE analysis, OpenSignal calculated average peak speed from December 2016 to February 2017 to compare tnumbers directly to the average 4G download scores it measured in its last India report, which ranked Bharti Airtel as fastest 4G telco. It measured faster optimized speeds on Airtel's networks than on the other three.
In the past both OpenSignal and Ookla speedtest results found Jio's average LTE speeds to be much slower. However, Indian regulator Trai's speed test data through MySpeed app ranked Jio as fastest telco for past few months.
Fitchard said that the discrepancy comes from TRAI's methodology. "TRAI is measuring operator performance under ideal conditions, while OpenSignal's methodology tests the typical everyday experience of consumers. As our average peak speed metric shows, there's a huge difference between Jio's everyday speeds and its optimal speeds," he explained.
Source:
___________________________________________
Airtel Digital HD Recorder / Kerala Vision Digital TV