KOLKATA: Mobile phone users appear to be moving from pricier postpaid platforms to value-rich prepaid plans, negating efforts of telcos to push more users to a segment that generates higher revenue.
This move to prepaid plans is reflected in a near 2% sequential fall in postpaid subscriber base in the September quarter, a key reason for the 10% fall in revenue from the segment, analysts said.
Market share of the already dominant prepaid segment has crept up to nearly 95.6% of the total subscriber base (including 4G LTE users) in the September quarter from 95.52% in April-June, with the postpaid user base slipping to 51.74 million, according to recent data from the telecom regulator. Sequential growth in prepaid market share is evident across metro, category A and B circles.
Postpaid segment revenue dropped 10% to Rs 5,900 crore from the June quarter, brokerage Kotak Securities said in a note, analysing the regulator's report on recent performance indicators. Conversely, prepaid revenue rose 9% to Rs 24,000 crore, largely on back of Reliance Jio numbers, which are now being counted. The contribution of the postpaid segment to industry revenue has dropped to a low of 20% from around 30-40% in FY16, experts said.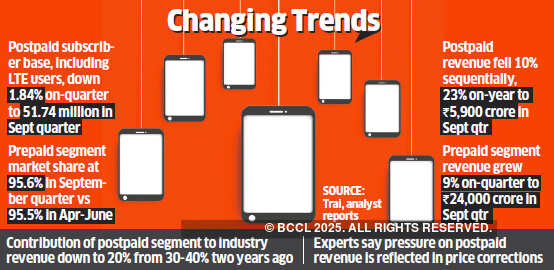 Read:
___________________________________________
Airtel Digital HD Recorder / Kerala Vision Digital TV