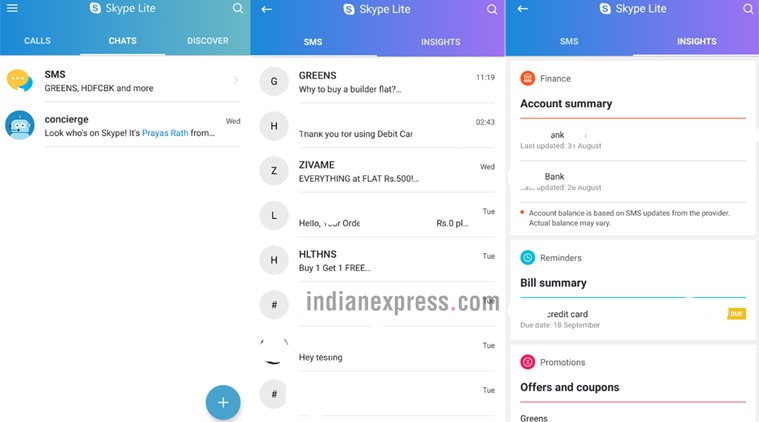 Skype Lite, the data-friendly version of the regular Skype, has got a new feature called 'SMS Insights' which will let users make this app the default SMS and organise their text messages. SMS Insights feature is able to leaf through the regular flood of text messages on a user's phone and organise them according to finance, upcoming bills, online orders, promotional messages, etc.
According to Microsoft's blogpost, "The new feature will make the SMS box smarter on the smartphones with automatic message sorting under different categories like Finance, Shopping, Travel, Reminder, and Promotions, helping users take an action from within the app."
The feature will have the SMS messages in one tab and Insights as another tab, which gives a proper breakdown of upcoming bills, total finances, flight check-in, customer care numbers etc. In order to experience the new feature, a user has to make Skype Lite as the default app on their Android smartphone. Once this access is granted, the Skype Lite app is able to categorise text messages.
Skype Lite is the more data friendly and the smallest app from Microsoft till date. Microsoft had announced the app earlier this year, which is designed this for the Indian market where data usage over video calls is a major consideration for most people. The app also has Aadhaar integration feature.
With SMS insights, Skype Lite is hoping to be more relevant to regular users. In India, WhatsApp is currently the most popular instant messaging app with over 200 million users, and it plans to add businesses to the list soon. WhatsApp with businesses will likely mean that future messages from a user's bank, credit card company will appear here, rather than as a text message.
Skye Lite's SMS feature will organise the mess that is SMS app tends to be in India. Users will often find themselves bombarded with messages around offers, spam, etc and the default messaging app on most Android phones will not be able to keep out the spam. The 'Insights' feature actually ends up displaying the information in a more relevant manner. For instance in the Finance section, it will show all balance from bank accounts, wallets, etc and the data is pulled from the recent SMS message you might have received.
It also has a Shopping category where the status of your order is reflected. The promotion category shows the deals, discounts you might have received as text messages. Unfortunately a user can't delete messages from Skype SMS feature just yet, and for this you will have to switch back to the regular SMS app. Microsoft says this feature is currently a work in progress.
On the privacy side, Microsoft says all "SMS classification and categorisation happens locally" on the phone itself, and the company doesn't read any of the information. The Skype Lite app is limited to Android.
Source:
___________________________________________
Airtel Digital HD Recorder / Kerala Vision Digital TV