PUNE: Bharat Sanchar Nigam Limited, which has been witnessing losses due to falling landline connections, has launched remedial measures to maintain the numbers. The state-owned entity is facing a similar situation to what it faced with the advent of mobile phones in 2002-03. From 3.39 lakh landline connections in March 2013, the number has come down to 2.48 lakh in March 2018.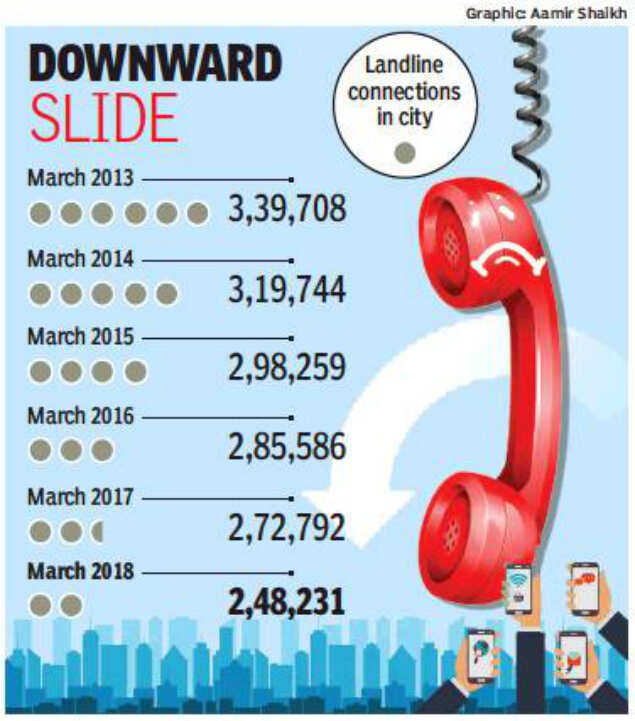 "The nature of landline phones has changed tremendously over the years. The landline connections, which were the main source of business and communications about two decades ago, faced challenges when mobile phones became popular in 2002-03. The advent of mobile phones led to a decline in landline connections and we saw people surrendering them," said Arvind Vadnerkar, principal general manager, BSNL, Pune.
Vadnerkar said a similar situation was being faced now with people surrendering their landline phones because of high speed data on mobile phones. "Back in 2002-03, broadband was coupled with landline phone which steadied the number of landline connections and the rate of surrender reduced. As we witness a similar trend once again due to 3G and 4G providing high speed data, we are coupling landline connections with Fibre-to-the-home (FTTH). The nature of landline connections is thus witnessing a change from copper wires to optical fibre," he said. To improve the quality of landline network, BSNL has also begun work on upgrading its landline switches to Next Generation (NGN) ones, he added.
Vadnerkar said, "Our landline network is suffering due to the infrastructural works being carried out by different organisations, including Pune Municipal Corporation and Pimpri Chinchwad Municipal Corporation. Our copper lines are damaged resulting in disconnections in several areas."
Vadnerkar pointed out that to restore the lines or to carry out any other development works, seeking digging permissions and reinstatement charges were major hurdles. "The PMC and PCMC charge exorbitant rates to provide the 'right of way' to lay cables. Not only us, but all telecom companies have to bear the brunt of these heavy charges. The charges are a major source of revenue for the municipal corporations. The municipal bodies must rationalize the rates so that telecom companies as well as consumers benefit," he said.
Vadnerkar said though BSNL's landline connections were decreasing, the company has increased its FTTH base by five times this year compared to 2016-2017. "With the new medium of optical fibre, people will shift back to family phones or landlines," he added.
Source:
___________________________________________
Airtel Digital HD Recorder / Kerala Vision Digital TV