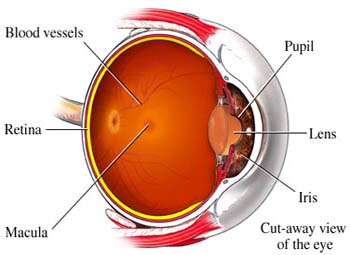 Frankfurt - The eye condition "wet" macular degeneration can be tested for at home using an Amsler grid, according to the Frankfurt-based Pro Retina self-help organisation and Germany's Blind and Visually Impaired Association.
The grid consists of a black and white mesh of lines with a white point in the middle. It can be found online with full instructions on how to use it at www. myvisiontest. com/amslergrid. php.
First, cover one eye with the palm of your hand. The other eye remains fixed on the white point at the centre of the grid at a distance of between 30 and 40 centimetres. Repeat the same procedure for the other eye.
If the lines appear distorted or bent, you should contact an optometrist immediately. The same advice applies if you look at wall tiling and the lines between the tiles appear wavy or if you look at a window frame and see the same distortion.
"Wet" macular degeneration is an eye disease that can lead to blindness if it is not treated early and quickly, according to experts. Estimates suggest that every week thousands of people around the globe are diagnosed with the condition.
Treatment consists of a course of injections that can retain sight or even improve it in some cases. (dpa)