Nivio, the world's first virtual Windows desktop, today unveiled a tiny US$100 set-top box device christened 'nivioCompanion' in New Delhi.
Just like a traditional PC, Nivio is powered by Microsoft Windows, which works just like a normal Windows desktop, but run on the internet instead of local computer.
The device stores all files online for e.g. photos are saved with Flickr while, emails are stored on Hotmail.
The company said, that all files are automatically backed-up daily and kept safe and private just like an online vault. There's no need to worry about viruses either, as all virus security is managed by Nivio.
Further, the company claims that device is future proof because all performance updates happen online so, nothing ever goes out of date.
Through the system, the users can access programs they're familiar with like iTunes, Skype, MSN Messenger or Microsoft Word, Excel or PowerPoint.
On asking regarding Installation procedure, the company said, new programs can be added in seconds without installation, and users only pay for what they use on a monthly basis.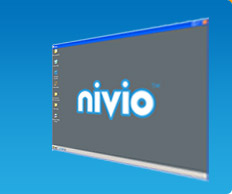 nivioCompanion costs from just Rs 4999 (approx US$100) for a standalone device. In addition, it is also available with a 15" LCD screen, keyboard and mouse for Rs7999 (approx US$160).
To access the device, Users simply go to the Nivio website (
www.nivio.com
) and log in. Once connected, the nivioCompanion offers a full Windows XP experience complete with a full version of Microsoft Office and 10GB of storage.
Nivio has partnered with Bharti Airtel Limited, India's largest telecommunications company, to offer consumers low cost, high powered computing.
During the initial phase, the company will roll out its device in New Delhi and the NCR region followed by a national roll-out.