Ludihana, May 13: A group of engineering students in Ludhiana has developed an eco-friendly motorbike which runs on air-pressure and doesn't require fuel.
The 100cc bike equipped with two compressed air cylinders, gives a mileage of 11 miles per hour, which the students have plans to increase with some changes in near future.
Students of Auto Engineering Department at the Guru Nanak Dev Polytechnic College in Ludhiana have invented this air-powered bike.
They claim that it is the world's first 100cc motorcycle powered by air and can help eliminate pollution to a great extent.
"There are bikes that run on batteries, but a lot of time is spent in charging them. In an air bike, you just need to fill air through a compressor. If we develop its air tank and reprocess the exhaust air, the capacity of this air bike can be increased, " said Akashdeep Singh, one of the innovative students.
"The main advantage is that it is pollution-free as its exhaust is cold air. The Defence personnel can also use the bike, as thermal radiation cameras cannot detect it. Also, the engine of this bike can work underwater and breathes air from its storage tank, which in turn sucks it from the atmosphere," said Balbir Singh, another student.
Having created the environment-friendly bike, the college students opine that it might not look very hi-tech and sophisticated for now, but it is a step in the right direction for a greener Earth.
"The idea of an air bike was conceived as our energy resources are being depleted day-by-day and pollution level is rising. Keeping all this in mind we have designed a 100cc bike which runs on air pressure technique," said Jagraj Singh Kaul, Head of the Department, Auto Engineering Department.
Established in 1953, Guru Nanak Dev Polytechnic College (GNDPC) is one of the oldest engineering institutions in north India and is a pioneer in technical education.
An ISO-certified institution, the GNDPC is committed to improve technical excellence to achieve global standards.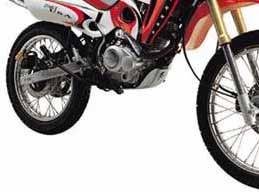 The polytechnic has set up its own Electrical and Electronics Laboratories Library and Computer Center under World Bank assisted projects.
And the air-powered bike is an innovation that makes the college proud.
In future, Motor companies can perfect this technology and produce air-powered vehicles. (ANI)