October hasn't been kind to India's 3G hopefuls. As already reported by FE, the much-awaited December 7 auctions are already off-track with DoT missing its deadline for the information memorandum. Further postponements are now anticipated as a result of regulator Trai's review of existing telecom policy and a squabble over frequencies between the telecom and defence ministries.

That will come as disappointing news to San Diego (California)-based digital wireless technology company Qualcomm. The $11-billion Fortune 500 firm is the largest supplier of proprietary wireless chipset technology, primarily on the code division multiple access (or, CDMA) and allied platforms. Its chipsets power a majority of all 3G devices. Qualcomm sees rapidly growing demand for 3G services, which are provided via CDMA and its variations, from emerging markets like India driving revenues over the next decade. According to the company's estimates, the number of 3G handsets—the primary form factor for the delivery of those services—is expected to touch 1 billion worldwide by 2013.

India's current mobile penetration of 34.5% is poised for massive expansion. The current 450-million subscriber base is expected to double in three years, with most accretion expected in small towns and rural areas. In urban areas, however, 3G will provide traction for high-value mobile data services such as Internet access over the next five years. At 117 million, Internet capable cellphones are already four times the number of PCs.

The country's upcoming auction is expected to pitchfork 3G handset shipments in the country from 34 million to 105 million between 2008 and 2013, a rise of 213%—surpassed only by China's 396% on a lower base of 23 million. "In India, we see an explosive opportunity," said Peggy Johnson, executive vice-president for the Americas and India.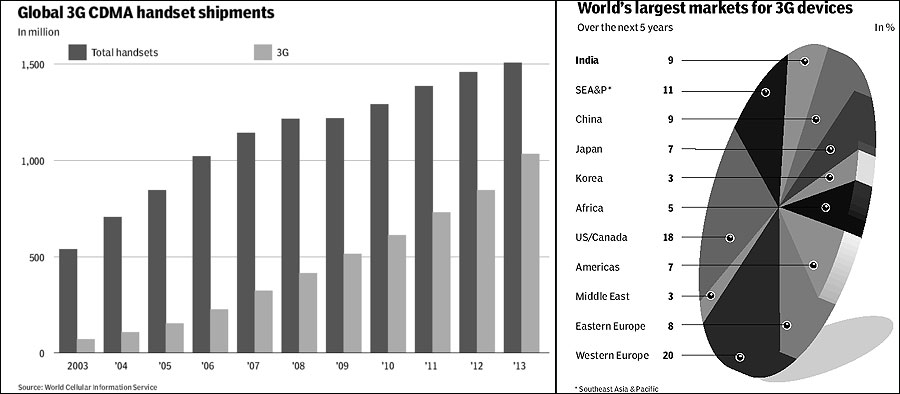 That's because when 3G is adopted in India, GSM operators will migrate to WCDMA (or its derivatives HSPA or HSPA+), which is a CDMA-based technology. "The existing GSM and CDMA roadmaps will converge on the 3G CDMA platform and Qualcomm, which supports all flavours of 3G, sees India as a strategic growth market with great potential," states a company note.

For Qualcomm, the projected scorching growth rates in countries like India promise to cushion the significant drop in chipset shipments as network operators and wireless equipment manufacturers, particularly in developed markets, cut inventories in response to the global economic slowdown. But exploiting the opportunities thrown up in these emerging markets poses its own set of unique challenges.

Addressing journalists from Asia, Africa and Latin America at an Editor's Day conference in the southern Californian city of San Diego recently, Qualcomm chairman & CEO Paul Jacobs explained: "The money is less. You've got to be able to deal with much less absolute dollars and often times much lower margins in the developing markets in the belief that you're investing in the future and you're going to be able to sell the higher-end stuff later."

That's where Qualcomm's impressive research & development efforts kick in. Armed with over 11,000 US and another 50,800 international patents—the company spends 20.5% of its revenues on R&D—Qualcomm is working to provide chipsets that integrate an increasingly greater amount of functionality, while still remaining affordable. "The investments that we're making to provide technology to the emerging markets, we're even further ahead there (than providing technology to developed markets) because we've been focused on them for a long time," said Jacobs.

The objective of the exercise: using the single-chip solution to break the $20 barrier for a handset, from the $30 entry cost today. "We recognised four to five years ago that we had to do R&D for developing markets. We changed our R&D strategies so that instead of just investing at the high end and having the features trickle down, we invest at the low end for a high degree of integration, better value and cost reduction," Jacobs added in response to a question from FE.

But the issue of pricing in emerging economies such as India also throws a curveball to Qualcomm's bread-and-butter licensing model for its proprietary technology, from which the company earns a third of its revenues. That was brought home starkly three years ago after a spat with RComm, the country's largest CDMA operator, over the payment of royalty to Qualcomm.

While declining to specify exact numbers on how much is actually levied—industry sources say it is around 5%—company officials say because operators pay royalty as a percentage of the wholesale cost of a handset, cheaper instruments will automatically bring down per-subscriber payouts. "Qualcomm uses that royalty in its research to reduce the handset prices, which have dropped faster in CDMA than in any other technology," Jacobs was quoted as saying at that time. Moreover, operators should see the cost of royalty outgoes more than made up for by yields from pricier data services made more accessible and faster on the 3G platform. Indeed, the global mobile broadband data share of revenue is slated to rise from 23% in 2009 to 32% by 2012. That will be welcome news for cellular operators in India, which has the lowest average revenue per user in the world.

According to Trai's figures, Arpus in Q109 stood at Rs 205 for GSM and a mere Rs 99 for CDMA. Last year, Arpus fell by over 22% for GSM and by almost 38% for CDMA. With the introduction of data services, operators will see incremental Arpus rise to around Rs 750. Add to that the predictions that smartphone shipments will grow at a compounded annual growth rate of 60% up to 2013, and it's easy to understand why operators are holding their breath while India lumbers towards 3G rollout.

Not surprisingly, Qualcomm, too, is looking to the government's 3G auction to unleash a second wave in India's telecom revolution. One that is likely to usher in a whole range of data services from banking and broadcasting to health care and logistics over the mobile phone. And few companies are better positioned to ride that opportunity when it crests than Qualcomm, which sees the 3G-enabled phones as, in the words of Jacobs, "the remote control of your digital life".