New Delhi:
When a leading multi-system operator (MSO) recently launched its digital cable services in a Gujarat city, set-top-boxes weren't picked up like hot cakes, contrary to the expectations and anticipated demand. On probing the cause, the MSO realised that the off-take had suffered because viewers wanted to watch the local cable channel offered by neighbourhood cable operators as part of their base package.
In the Hindi-speaking markets, local cable channels have beaten the most watched channels by grabbing a market share of 9.9%, while Star Plus, the channel that has garnered maximum eyeballs in 2008 according to TAM data, boasts of a market share of only 9.2%,. The popularity of such local channels is magnified when their market share is compared to channels other than market leader, Star Plus. While the second most watched channel, Zee TV, accounts for 6.7% of viewers' attention, the total market share of channels ranking between the third to the fifth position (Sony—2.8%, Colors—2.7%, NDTV Imagine—2%), which account for 7.5% of the pie in 2008, still stands lower than what the local cable channels command.
However, this is not translating into large advertisers preferring local channels over national channels, mainly because of the genre's highly fragmented nature and secondly the brands' reluctance to associate with content that could be substandard or even pirated. The story repeats itself in segmented regional markets. While in the eastern market, the dominance of local channels prevails clearly over the most watched channel, in the western and northern markets, the cable channel competes neck to neck with the top rated channel. In the eastern region, cable channels account for 11.09% of the market share, while the channels with the highest viewership, Star Plus, commands almost half (5.8%) of that figure. In the northern market, cable channels recorded a market share of 9.79% of the total viewership, reflecting a tight competition with the market share of Star Plus, which commands a share of 9.9%. The scene in the western region is no different with cable channels accounting for 9.2% of the market share,compared to market leader Star Plus's share of 9.8%.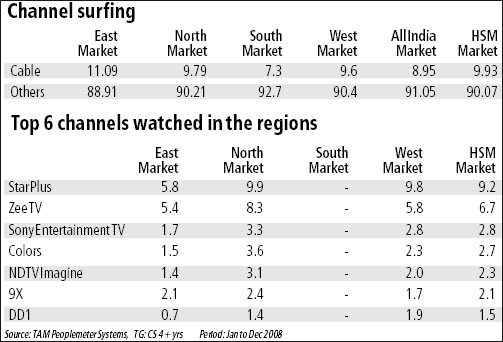 However, two of the executives from broadcasting companies FE spoke to, said the edge of a neighbourhood cable channel stems from the fact that they show new movies well in advance of home video releases. Their strength is built upon pirated content, which implies their existence is illegitimate, complain broadcasters. "This is something we couldn't, shouldn't and wouldn't do," said a broadcaster. The multi system operators, for whom the platform has emerged as a significant source of revenue, have started experimenting with programming on the medium, by sometimes creating popular original shows, especially around local events, which could be of religious, political or cultural significance. While recently speaking to FE, Anuj Gandhi, CEO of Raghav Bahl and Sameer Manchanda promoted MSO-Digital Entertainment Networks (DEN) pointed out how the popularity of such channels soars further during special local events. For instance, during the last Delhi state assembly elections, when such channels recorded 11 times more viewership than the next most watched news channel. The popularity of such channels can also be gauged from the fact that many DTH players privately admit that unavailability of this channel is one of the prime reasons for their services not picking up in many pockets of non-CAS areas, a disadvantage they are trying to compensate and outdo by offering variety of value-added services.
Despite this, large Indian companies and multinationals are usually wary of advertising on such platforms. According to Nandini Dias, COO, Lodestar Universal, "We do place ads on some such platforms through well known MSOs, like the Hinduja's Incable, Essel's Siticable among a few others, who stick to certain standards and tranparency in the content and guarantee reach to a specific number of viewers. However, this category as a whole is not at all organised and is highly fragmented, which makes negotiations very difficult. Since there would be around seven-eight odd networks operating in south Mumbai itself, it need not necessarily prove to be very cost effective too, when you compare it with a channel that has national presence". Dias further points out local services like educational institutes, gyms, beauty salons, religious congregations use this locality medium for publicity. Media buying agencies feel these platforms compete more with FM radio as a medium, rather than national channels of various genres, owing to their neighbourhood or city-specific focus and small footprint.
"One is aware that these channels serve as major revenue earners for MSOs and LCOs (local cable operators), their importance further accentuated in these adverse economic times, when other revenue streams are drying up. This is why many MSOs have floated more than one channel in their networks. The need of the hour is to acknowledge that platform rather than shutting our eyes to its existence and bring them to the legal broadcasting and distribution system," said Smita Jha, associate director, PwC. These platforms have huge untapped opportunities, which can be unleashed once proper business models are put into place, which will enable them to secure growth funding.
While advertisers demand accountability in content from neighbourhood channels, ironically bringing accountability in will mean parting with the USP of these channels —showcasing movies as they hit the theatre.