---
Spurred by various data plans, users are increasingly going online after midnight - nairrk - 07-20-2017

MUMBAI: Indian phone subscribers are increasingly going online in the small hours, spurred by various data plans from telcos that offer incentives for usage from midnight to early morning as a retention ploy in an intensely competitive market.

The offers have been triggered by the entry of Reliance Jio Infocomm, which has offered free data and voice plans to win over subscribers. According to Counterpoint Research, until Jio's launch in early September, barely 1% of data was being used by consumers at night. That share has soared to 10-15%, with a jump in overall data usage. It's expected to cross 20% by the fourth quarter of this financial year ending March 2018.

"The success of night calling plans has led the operators to come up with night exclusive plans, which was initially influenced by Jio," said Satyajit Sinha, research analyst for mobility and Internet of Things at Counterpoint. "And at the same time, the biggest challenge for an operator is not only to increase the subscriber base but also to provide customer satisfaction to existing consumers by updating plans frequently, so they don't port to other competitors."

Jio's night offer from December to March featured free and unlimited data between 2 am and 5 am along with a 1GB a day plan. That prompted incumbents--market leader Bharti Airtel and second and third-ranked ranked Vodafone and Idea Cellular–to ramp up their own night plans.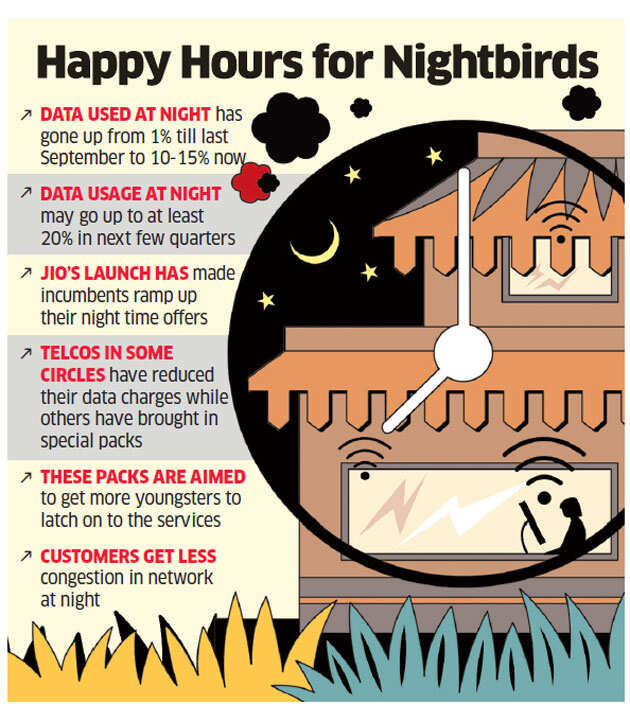 This was among the strategies employed by the incumbents to counter Jio, especially as consumers could switch providers while keeping their numbers, also known as mobile number portability. Also, Jio offers free voice for life.

Analysts said the trend mirrors a move to encourage users to make more voice calls at night some years ago.

"There is an M-curve in telecom and when the curve is at its lowest, it means less traffic and operators roll out benefits to get more subscribers to join the network," said an analyst at one of the Big Four consulting firms. Network traffic is typically sparse during the early hours of the day.

Bharti Airtel said getting more people to use data at night eases congestion during peak hours.

"We hope that this will have a positive impact on the overall network experience during the day/peak-hours as Happy Hours can help shift some of the non-urgent data traffic to non-peak hours and help reduce congestion," said Ajai Puri, director, operations (India and South Asia), Bharti Airtel.

Telcos such as Vodafone are targeting younger users, who are early adopters and the main night-time data consumers.

"Today's youth is born into mobility and the mobile phone plays a central role in their life. It is both their command centre and companion rolled into one. Data is what keeps them connected," Vodafone India chief commercial officer Sandeep Kataria had said, while announcing the night packs in June.

According to a study by telecom gear maker Ericsson, average mobile data consumption per handset in India is expected to increase fivefold, accounting for almost all of the total traffic from mobile phones by 2021. Currently, about 5% of the data traffic is through feature phones and 95% through smartphones, says Counterpoint Research. Usage will be further fuelled by falling data rates and feature phones will be more in demand when Jio launches its 4G Volte feature phone.

"Night tariffs for data are applicable from 12 midnight to 6 am… Whereas overall data usage has grown, the rate per MB has dipped significantly over the last two quarters," Idea Cellular said in response to queries.

Source:


---