---
After Reliance Jio, Airtel, Idea Cellular offer cashbacks to keep ARPU intact - nairrk - 11-21-2017

MUMBAI: Telecom operators are offering cashback options in the higher tariff range to sustain – if not increase – average revenue per user and encourage the use of mobile wallets, through which the money is returned.

After Reliance Jio Infocomm and Bharti Airtel, Idea Cellular has started cashback offers in the tariff range of Rs 300 and above. Vodafone India is expected to follow shortly in the same range, according to sources.

Average revenue per user (ARPU) – a key industry parameter – plummeted almost 40% in September from a year earlier, when Jio started its initially-free services. Jio's entry triggered a price war with rivals and made bundled voice and data offers the norm rather than the exception.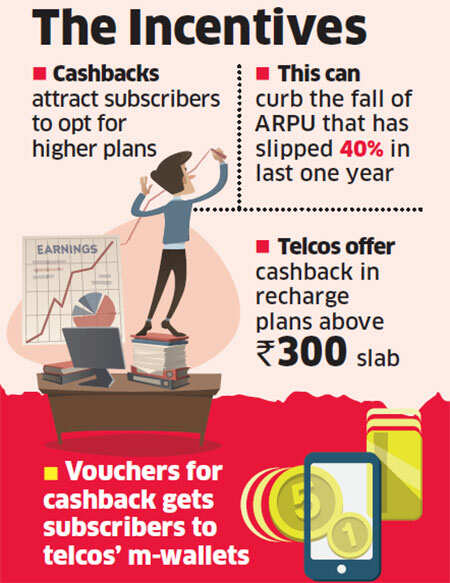 Now, with Jio gradually increasing data rates, the industry is trying new ways to increase ARPU while protecting existing users and attracting new ones.

"Earlier, telcos provided various offers in different price bands and most of the customers went after optimum offers, which were not in the high price range. But now operators are focusing on the Rs 340-380 price band," said Satyajit Sinha, a research analyst with Counterpoint Technology Market Research.

ALSO READ: Monitoring all offers, including bundled and cashback: TRAI

This way, ARPU will either increase or remain flat but not decline in the next few quarters, analysts said. Sinha said that till about a year ago, the sweet spot was the Rs 250-260 range, but now operators want that spot to hover in the Rs 350-plus range. However, not all are convinced this option is sustainable.

"The operators are playing to the masses. With cashback offers available for grabs only during a limited time frame, there will be a short-term uptick in the ARPU but whether it would lead to a sustainable practice is yet to be seen," said Sanjiv Bhasin, executive VP, markets and corporate affairs, at brokerage IIFL.

Bhasin said that once consolidation in the industry is completed in the next six to nine months and only three main players remain, tariffs will start to increase.

Since Jio's entry, Idea Cellular and Vodafone have been on track to merge, while Bharti Airtel plans to pick up the wireless business of Tata Teleservices, having bought out Telenor India. Reliance Communications has shut its 2G and 3G voice business and Aircel is expected to shrink its operations.

Mukesh Ambani-owned Jio announced a 100% cashback this month on every recharge of Rs 399 or above for its Prime members, who will also get discounts on various shopping and e-commerce sites. Bharti Airtel, India's No. 1telco, recently came up with a similar offer for subscribers who opted for a Rs 349 recharge.

Kumar Mangalam Birla-controlled Idea launched a 100% cashback offer last Friday for subscribers recharging for Rs 357. All these offers have a time frame during which customers have to recharge and require transactions to be carried out on the telco's apps and mobile payment banks, which increase customer stickiness, analysts said.

"In this competitive industry, telcos are trying out various ways of retaining customers and testing out different plans. Cashback is one such way. The plan that sticks will be used more in the long term," said Rajan Mathews, director general of the Cellular Operators Association of India, an industry grouping.

Source:


---