---
Google Assistant rolls out visual snapshot to take you through the day - nairrk - 07-18-2018



Weeks after continued conversation for Assistant on Home speakers, Google has announced that it's rolling out a new update to its Google Assistant giving it a new overlook that resembles bit and parts of the Google Now cards. Calling itself a 'visual snapshot', the new feature will add active suggestions and personalised info like the Google Now which now makes a significant appearance with integration into the Google Assistant.

Visual Snapshot will help users go through their day by offering them carefully sorted content that is based on a user's location, recent searches and time of the day, all of which will be visible inside the Google Assistant. The update is currently being rolled out for iOS and Android devices in all languages that the Assistant supports at the time.

Upon receiving the update, the Assistant will display your reminders, movie tickets, restaurant reservations, upcoming payments, order updates for a package, agenda and suggestions for new Actions that you should try out. Google will put travel times at the centre just in case you know how far out from your home or work or when you need to start your trip.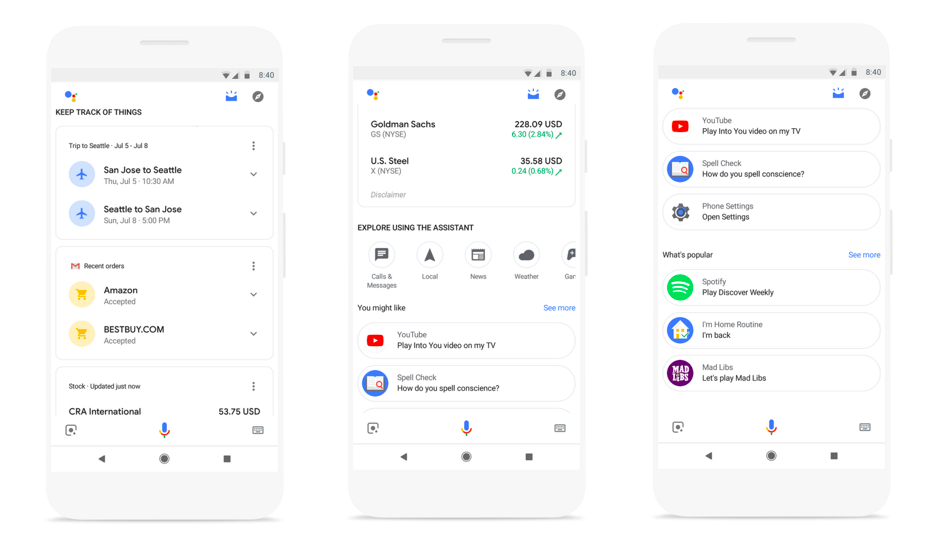 Android users can access the latest update by tapping on the new icon that's placed in the top right corner of the Google Assistant, while iOS users will be shown these personalised info cards when they open up their Google Assistant app. Google says that it'll soon add newer features to the visual snapshot with a quick brief of your notes from Todoist, Google Keep, Any.Do and others being the next in line to be added to the Assistant.

Google will offer a new discovery section for searching activities nearby, suggestions for parking spots depending upon where you parked your vehicle in the past and personalised music playlists and podcasts.

Source:


---